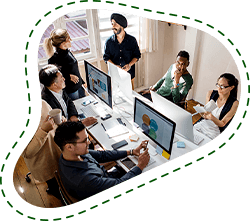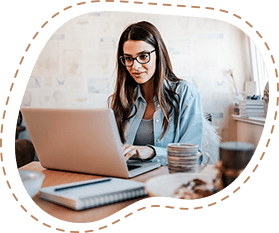 " One language sets you in a corridor for life. Two languages open every door along the way" - Frank Smith.
Who we are
English Vidya is an innovative online platform where a group of young, enthusiastic, passionate individuals join hands to reach out and help others who struggle in their ability to find what they are capable of. Good command over a language boosts your confidence indeed and it also provides a better vision of life. We realize the perspective of a new culture through languages and English as a language is indeed the pioneer of that vision. That's why English is recognized as the "Universal Language". All your language related problems shall be dealt accordingly. Come along with us and explore the deep mysteries English language has to offer.
Expert Instructors

Lifetime Access

Remote Learning

Self Development
View Courses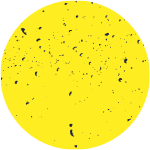 "Our historical progress in creating an impact"
English Vidya embarked its unpretentious dawn on April 4th, 2020. Hoping to create a new promising era in this divine field of teaching, Shafir TP, Fasal KK, Fayis MT and Simsarul Haque started this platform to acknowledge the significance of English dialect and grammar. They always felt the need of introducing a platform to create a change in the society, giving them an oppurtunity to excel in their own career spheres. That feel of realization, led to the emergence of English Vidya. The diligence and zeal that they dedicate to this journey should indeed enlighten the minds of many, who wants to develop their linguistic skills. English Vidya stands apart in imparting their devotion and fidelity to each and every one their pupils.
I'm very happy to be a part of English Vidya. In my view, it was a great opportunity to study here.. Then I have got two good teachers.. Fayiz sir and Naziya mam, thanks to both. I have really enjoyed. I got a more usages of grammar. It is useful for me. Thanks to English Vidya and all the crew especially thanks to Fayiz sir and Naziya mam... 😊
Vismaya
Intermediate level
Thank you so much for the team English Vidya for arranging such an excellent platform for us to improve our English language. It helped me a lot to improve my English knowledge. Nothing more to say, thank you for the opportunity
Gayathri
Intermediate Level
Your team helped me to improve my English language. Thank you so so so much... It means a lot. I'm really happy to got a chance to learn English from this wonderful institution. I haven't felt any negative from this class. Now, I'm very confident to communicate in English with anyone and I can't help saying about your support, If I have improved in my language, It's all because of you... I'm very grateful to you and your entire team ENGLISH VIDYA...🖤✨
Akhila
Intermediate Level
I can do everything. When I joined this, I thought about how. But now I have no tension. They will tell you even if there is a mistake because there are trainers to support us. English Vidya is a good institute. Everyone benefits. Joining this is an improvement for me and my friends. We joined English Vidya together. We loved everything in class. We understand that all notes are simple❣️🥰
Education for everyone
Learn, Grow and Change the World!
With our help, you're one step closer to success. We help you to be reformed into a new greater self in no time ! It's time for smart working rather than hard working..
Founders
English Vidya Founders
Online Certification
Get Your Quality Skills Certificate Through Online Exam
Students friendly pricing for the certificate programs helps individuals to get their skill certificate easier than ever!
Get Started Now